Our Favorite Hermès Women's Watch Styles
January 26th, 2020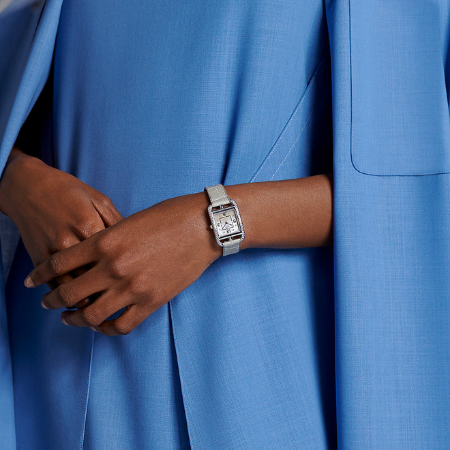 An icon of luxury goods, Hermès was first founded in 1837 on the ideas of artisanal quality, the ability to be creative, a constant quest for beautiful materials, and the transmission of exceptional know-how. This aesthetic and mindset have continued for over a century, with Hermès still creating amazing timeless styles that are truly elegant and stand the test of time.

Each Hermès women's watch in their collections captures this sensibility, with amazing attention to detail, the highest quality materials, and unexpected touches that truly make them unique. As with any Hermès goods, these pieces are designed to last and hold their value over time due to the iconic standing of the Hermès brand. Each timepiece is carefully designed to be useful and stylish, with a high level of versatility and functionality that lends itself well to any modern woman's day-to-day.

If you're considering adding an Hermès timepiece to your collection, here are a few collections and styles to take a look at before you make your final purchasing decision, all available at Heller Jewelers San Ramon.
THE ARCEAU COLLECTION
One of the most iconic Hermès timepiece collections, the Arceau style is one for the ages. This unique design features a bold oversized face with whimsical slanted Arabic numerals for a playful touch. The timeless Hermès logo at the center adds an elegant feel to this modern piece. This collection of timepieces is ideal for the woman who loves the idea of a classic watch but wants one with a more elevated and contemporary feel with the option of adding a touch of color to her look.
THE CAPE COD COLLECTION
One of the more recent additions to the Hermès collection of timepieces, the Cape Cod style is one that is bold and eye-catching. This aesthetic features a striking square face with rounded accents paired with a statement strap that wraps around the wrist multiple times. The Cape Cod Collection is perfect for the women who appreciate a high level of style in addition to functionality, opting for pieces that can double as jewelry while also carrying on a sense of sophistication.
THE KELLY COLLECTION
When it comes to Hermès women's watches, the Kelly Collection is definitely one of the most well-known. This style is inspired by the best-selling Kelly Handbag, an iconic piece that is a treasured part of many women's accessory collections around the world. The Kelly style features a playful lock-shaped case with a slim face and a feminine strap. With details like these, this collection is ideal for any woman who appreciates the iconic Hermès branding and style.
THE HEURE H COLLECTION
Another favorite of women around the world the Heure H Collection is the perfect subtle statement-making timepiece to add to any collection. This watch features a unique case design with the classic Hermès "H" logo built right in. A square face paired with long interchangeable straps add a luxe feeling of versatility to this piece. The Heure H Collection is ideal for any woman who is a lover of the Hermès brand and who isn't afraid to make a statement with her timepieces.
THE NANTUCKET COLLECTION
Simple, slim, and sophisticated, the Nantucket Collection of Hermès women's watches is another one of our favorite must-have styles. This unique timepiece features an elongated rounded case with a rectangular case and slim interchangeable strap. Travel-friendly and easy to slip on with any outfit, this timeless Hermès style is perfect for any woman on-the-go who is looking for something that she can wear anywhere.
READY TO FIND YOUR PERFECT Hermès WATCH? BOOK AN APPOINTMENT TO COME IN-STORE & SHOP OUR FULL SELECTION OF STYLES AT HELLER JEWELERS SAN RAMON.