How To Find The Perfect Engagement Ring
March 1st, 2020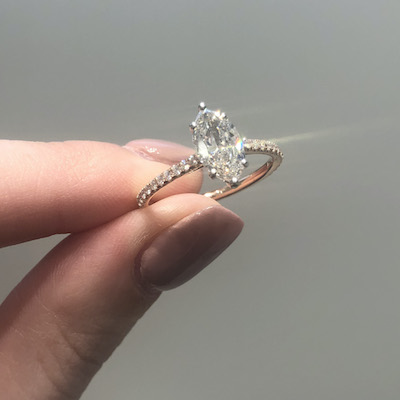 But when it comes to searching, it?s easy to quickly become overwhelmed by the number of options out there and the number of places to buy from. From considering the diamond cut, precious metal of the band, the diamond setting and more, there?s so many little pieces that go into finding your engagement ring.
If you?re feeling overwhelmed or are in need of a little guidance, we?re here to help. We?ve gathered some of our most frequently asked engagement ring questions and answers to help you get started on finding the perfect ring. Keep reading to learn more.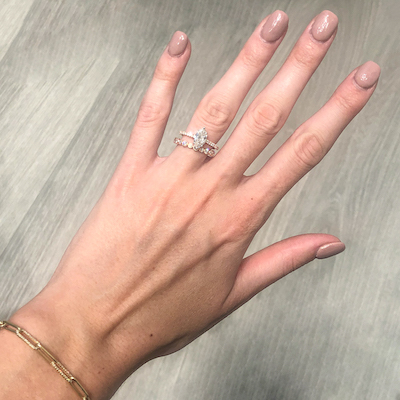 Q: HOW DO YOU GET STARTED SHOPPING FOR AN ENGAGEMENT RING?

To get started on finding an engagement ring, it often helps to sit down and think about what you are both looking for. Ask the following questions:

Do you have a budget in mind?
What ring settings do you like?
What diamond cuts do you like?
What precious metals do you like?
Once you have these options narrowed down, you?re ready to start shopping! We always recommend scheduling an appointment at Heller Jewelers East Bay to try on rings in person rather than simply shopping online. This way, you can see what the ring looks like when you wear it and you may just find something new and exciting that you hadn?t been considering before.

Q: WHAT ARE THE MOST POPULAR TRENDS YOU'RE SEEING RIGHT NOW?

One of our favorite bridal trends right now is the popularity of the solitaire setting. This type of ring features a simple band with a single diamond at the center, much like the popular Tiffany?s rings. We are also seeing a resurgence of rose gold, a feminine and rosy pink alternative to the classic yellow or white gold. Another style that we?ve been seeing more of is the trend of stacked rings. Many brides are purchasing their engagement ring and wedding ring in a set with a design that gives off a layered appearance.

Q: WHAT ARE THE MOST POPULAR DIAMOND CUTS?

Currently, the most popular cut is the round brilliant cut. This circular shape is highly sought after for its ability to highlight a diamond?s natural brilliance. Another style we?re seeing a lot of is the marquise cut. This vintage-inspired cut features a long, tapered shape that elongates the fingers and maximizes the diamond?s carat size. A third popular style we?re seeing is the princess cut. A favorite of solitaire rings, this cut features a broad, flat top with a pyramid side profile to create the illusion of a larger stone.

Q: WHAT ARE THE MOST POPULAR RING SETTINGS?
There are a few ring settings that we?re seeing a lot of in recent months. The most popular, as we mentioned before, is the solitaire setting. Another beautiful style that is still growing in popularity is the halo setting. This setting style features a single large stone at the center surrounded by smaller stones that create a ?halo? of diamonds for the appearance of a larger stone. A third style that is growing in popularity is the three-stone setting. This aesthetic features a large stone at the center with a smaller stone on either side. Each stone represents a different part of your relationship - the past, the present, and the future.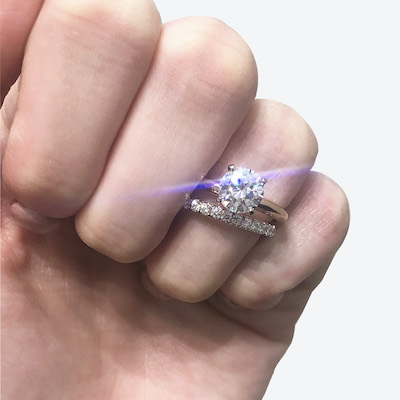 Q: WHAT ARE THE MOST POPULAR PRECIOUS METALS?

As we mentioned before, the most popular precious metal of the moment is the feminine rose gold. We are also seeing an increased interest in bright yellow gold, especially with vintage-inspired diamond cuts such as the marquise cut or the emerald cut. We are also seeing an increase in platinum and silver used in engagement rings, especially as accents to a standard gold band.

Q: HOW DO YOU FIGURE OUT WHAT YOUR RING SIZE IS?

If you?re having trouble figuring out your ring size, it?s always recommended to get measured in-person by a professional. They?ll be able to help determine your actual ring size with a high level of accuracy. However, if you?re looking to measure yourself at home, you can follow these steps:

Wrap a piece of string around the base of your ring finger.
Mark the connecting point with a pen or cut the string.
Measure the length of the string with a ruler in mm.
Using your mm measurement, match it to the closest size on a ring sizing chart.
Q: WHICH DESIGNERS SHOULD COUPLES CONSIDER WHEN SEARCHING FOR A RING?

Our favorite designers are currently Hearts on Fire, the HJ Collection, Gabriel & Co, and Verragio. Other options to consider are Bez Ambar, Jack Kelege, and Rahaminov Diamonds.


If you?re still feeling stuck and wondering if, when, or where you?ll find your perfect engagement ring, you can always opt for a customized piece. By creating your own ring, choosing the unique stones, settings, and precious metals, you?ll be able to craft something truly unique to celebrate your relationship. At Heller Jewelers, San Ramon, we offer the option to create a fully customized ring from scratch with our expert staff and on-site jewelers.


READY TO FIND YOUR PERFECT ENGAGEMENT RING AT THE BEST JEWELER IN THE EAST BAY? CONTACT US TO BOOK AN APPOINTMENT TODAY!