NANCY?S FAVORITE FASHION PIECES: MUST-KNOW JEWELRY TRENDS
January 10th, 2019
Between new precious metals, the latest must-have precious stones and endlessly beautiful new styles, it?s almost impossible to keep up! If you?re looking for some expert guidance to help you determine which trends to pay attention to and which to invest in, we?re here to help.
We sat down with Heller?s resident style expert and Fashion Buyer, Nancy Orgel, to talk about the latest fine jewelry trends and her latest fashion finds. Keep reading to learn more!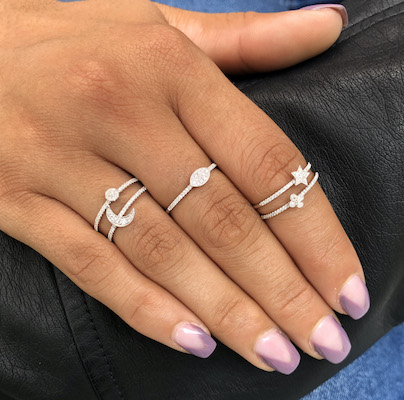 Q: WHAT ARE YOUR FAVORITE PIECES AT HELLER JEWELERS?

My current favorites are the Catherine Cuff, the latest Hearts on Fire Collections and one of our new launches, Pomellato.


SHOP NANCY?S FAVORITES:
Q: WHAT ARE THE MOST COMMON FASHION TRENDS THAT YOU?VE BEEN SEEING IN THE WORLD OF FINE JEWELRY?

We?re seeing a lot of chunky necklaces and bracelets as well as yellow gold hoop earrings. In terms of precious metals, we?re seeing a lot of yellow gold. For precious stones, rainbow colors are trending.


SHOP NANCY?S FAVORITES: