Our Favorite Engagement Ring Settings For 2020 & Beyond
January 15th, 2020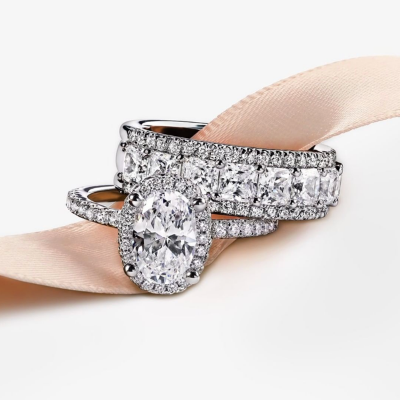 This is often the first step in the process of choosing your ring, as this typically determines which type of diamond that you need to buy. But with so many different styles of engagement ring settings out there, how and where do you get started?


To help you in your journey to finding the perfect engagement ring, we?ve gathered some of our favorite styles of ring settings for your consideration.
THE HALO SETTING

The most popular ring setting for the past 4 years, the Halo Setting is one of our favorite choices for an engagement ring. This style of setting features a large center diamond that is surrounded by a circle (or halo!) of smaller diamonds or other precious stones. This halo makes the center stone appear larger and more brilliant and perfectly complements a wide variety of different diamond cuts and shapes.


A halo setting also allows you to create a unique look with your ring, with the option of choosing colored gemstones rather than diamonds to use for the halo or a single large gemstone at the center of a ring of diamonds.
THE PRONG SETTING

Another popular choice for engagement ring settings is the classic Prong Setting. This timeless style features either four or six prongs that hold a diamond tightly in place with either a rounded, pointed, flat, or v-shape. Prong settings are often chosen because they minimize the amount of metal around the diamond, allowing for its brilliance to shine through.


Prong settings are also great when paired with other setting styles, such as Solitaire or Split-Shank, for a truly unique and eye-catching appearance.
THE SOLITAIRE SETTING

Perfect for any bride who loves simple sophistication, the Solitaire Setting is one of the most popular choices of ring settings. This unique style is a branch of the timeless Prong Setting, featuring one large center diamond or other precious stones alongside a minimalist band without detailing.


A solitaire setting is great for showing off a unique diamond cut, such as a Marquise Cut or an Emerald Cut, as it puts the stone on display with little distraction.
THE BEZEL SETTING

The perfect setting for an active bride, Bezel Settings feature a modern look with precious metal encircling the center stone with a thin custom rim that keeps the stone tightly in place. This style of ring setting is more secure than a classic Prong Setting and can be created in a variety of styles, such as a full Bezel Setting, in which the stone is fully circled, and a Partial Bezel Setting, in which the sides of the stone are left open.


Bezel settings are ideal for women who want a little extra protection for their center stone or who are constantly using their hands throughout the day.
THE PAV? SETTING
You can think of a Pav? Setting as being ?paved with diamonds.? These beautiful ring settings set small diamonds or precious stones closely together to minimize the visibility of the prongs or beads holding them in place. The result is one continuous sparkling ?road? of diamonds! Pav? Settings are perfect for maximizing sparkle and brilliance as well as setting off your center stone in a truly dazzling way.


Like Halo and Channel Settings, Pav? Settings allow for customization in that you can select different smaller stones to be placed, or paved, in the band for a truly breathtaking and unique appearance.
THE CATHEDRAL SETTING

The perfect classic setting for a bride who loves vintage inspiration and timeless elegance, the Cathedral Setting is simple yet sophisticated. This setting involves the use of cascading arches, much like those found in a cathedral, to display a center stone within the ring. It?s often paired with Bezel or Prong Settings to hold the diamond securely in place. These ring settings help make a stone appear more prominent and larger in size.

Cathedral Settings are a favorite among those brides who are also looking at Solitaire Settings, as they can be combined for a truly statement-making and unique engagement ring.
THE CLUSTER SETTING

Sparkling, bright and beautiful, the Cluster Setting is one of our favorite styles for the bride who truly wants to dazzle with her engagement ring. These ring settings feature a series of diamonds, or a cluster, grouped together to give off the appearance of a single larger diamond. Cluster Settings can use diamonds of similar or differing sizes to create an appearance that is truly unique to the ring.


Cluster Settings are often used when creating engagement rings with unique shapes, such as floral designs, as many smaller diamonds can be used to make up a single larger shape.
THE SPLIT-SHANK SETTING

Sophisticated with a statement-making appearance, Split-Shank Settings are quickly growing in popularity among modern brides. This unique style of ring setting refers to the band, in which it is split into two separate shanks before meeting with the center stone. Split-Shank Settings give a truly unique appearance to any ring and allow for the addition of other ring settings within the band itself, such as Pav? Settings or Channel Settings.


Split-Shank Settings are quickly growing in popularity among brides who are searching for a modern ?stacked? look for their engagement ring, as it can provide the illusion of multiple rings being worn at once.


Of course, there are many other aspects of an engagement ring to consider before you finally make the plunge and purchase your ring. If you?re still unsure of what you should be considering, please feel free to contact us to Book an Appointment to come in-store and meet with one of our expert jewelers. They will be able to help you find exactly what you?ve been dreaming of as well as discuss customization and other options!


READY TO FIND YOUR PERFECT ENGAGEMENT RING? BOOK AN APPOINTMENT TO COME IN-STORE TODAY!