Our Favorite Wedding Rings & Designers for Women
January 25th, 2020
Between the number of options on the market, the different designers, and the hundreds of institutions to buy from, it?s pretty easy to become stressed when trying to find the perfect wedding ring for your unique relationship and love.
To make your journey a little bit easier, we?ve put together a list of some of our favorite wedding ring designers to help you narrow down what you?re looking for and find the perfect piece. Here are six amazing options for your consideration that are all available at Heller Jewelers, San Ramon.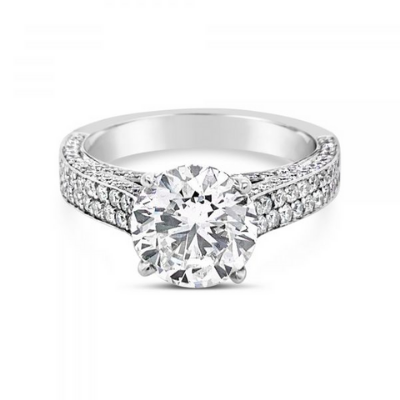 BEZ AMBAR
First made famous in 1982 with his invention of the Quadrillion? Cut, also known as the Princess Cut, Bez Ambar has been in the business of creating gorgeous diamond rings for over 40 years. Bez Ambar also was the creator of the beloved Micro Pave Setting, which features a primary stone surrounded by tiny ?paved? diamonds for an even more dazzling effect. His creations are best known for their brilliance and how they uniquely break the light, with cuts made to produce bursts of vivid color and fire that outshine any other diamond.
Bez Ambar designs are perfect for women looking for wedding rings that will truly sparkle. Each piece in this collection features stunning center stones surrounded by smaller pave diamonds for a truly breathtaking appearance. As an authorized retailer of Bez Ambar, you can also come into Heller Jewelers to try on any engagement rings in person.
SHOP BEZ AMBAR
HEARTS ON FIRE
Hearts on Fire knows the beauty of a diamond is best unleashed through its cut, that?s why they focus on providing the world?s most perfectly cut diamonds. Each Hearts on Fire diamond is cut to a unique dazzling shape that lets in the most light possible in order to maximize sparkle and brilliance. Their creations range from classic pieces to trendier items with unique cuts that will truly capture the eye and reflect the unique beauty of the woman wearing them.
Hearts on Fire designs are ideal for the bride-to-be looking for a ring that will truly sparkle. She may be considering different shapes and styles, from timeless classics to trendier items. Heller Jewelers East Bay serves as an authorized retailer of Hearts on Fire, which offers you the unique opportunity to come in-store and try on any piece in our collection in-person.
SHOP HEARTS ON FIRE
JACK KELEGE
A favorite in the bridal industry for his stunning heirloom designs, Jack Kelege serves as both the designer and manufacturer of all of his pieces. His expert craftsmanship and perfectionist attention to detail has led to the creation of many unique and breathtaking designs that are unique to the customer and the precious stones used. Each design is still produced in-house by skilled artisans and Jack Kelege himself in Los Angeles, California, making this designer brand a timeless edition to any woman?s collection.
A designer of both engagement and wedding rings, Jack Kelege is perfect for the woman who is looking for the all-in-one shopping experience. She wants a stunning wedding ring that is truly unique and heirloom quality, one that she can potentially pass on to future generations. As an authorized retailer of Jack Kelege, you can also come in-store to Heller Jewelers to personally try on each of his amazing designs and find the perfect ring for you.
SHOP JACK KELEGE
VERRAGIO
The designer best beloved for its offering to create a truly beautiful custom ring, Verragio has been a bridal favorite for over 25 years. They offer an amazing selection of engagement rings, wedding bands, and sets that can be fully customized in terms of band style, diamond cut, setting, and more.
Verragio is the perfect designer for the woman with a discerning eye who is after wedding rings that are cutting edge but timeless and highly wearable. The amazing option to choose different aspects of the wedding ring gives this designer brand a unique perspective on the industry that?s perfect for the creative bride.
SHOP VERRAGIO
GABRIEL & CO.
With over 30 years of experience in the business and eye-catching designs galore, Gabriel & Co. is one of our favorite wedding ring designers for any style. Known for their iconic & symbol, they embody the idea that positive energy and a true passion for what you do is crucial when designing wedding & engagement rings.
Gabriel & Co. is the perfect choice for the bride who wants it all - a timeless style, beautiful precious metals and sparkling diamonds to match their heart?s deepest desires. They offer a variety of classic and trendy aesthetics, making them perfect for matching any bride?s unique sense of style.
SHOP GABRIEL & CO
THE HJ COLLECTION

For the bride who is still not satisfied with her options, the Heller Jewelers Collection has an amazing selection of styles for every price range. From stunning halo settings to bold solitaires, sparkling emerald cuts to feminine princess cuts, this amazing collection has it all and so much more.

SHOP THE HJ COLLECTION



If you are still having trouble finding the perfect wedding ring, there is always the option of customization. At Heller Jewelers, East Bay, we offer a unique opportunity to fully customize the perfect wedding rings, with experienced staff and jewelers that will help you pick out the perfect band, precious stones, and more to create a unique piece that is truly yours.


READY TO DESIGN YOUR CUSTOM RING? BOOK AN APPOINTMENT TO COME IN-STORE TO HELLER JEWELERS, SAN RAMON'S HOME FOR FINE JEWELRY!