Rings 101: The Difference Between A Wedding Ring And Engagement Ring
January 25th, 2019
Have you ever stopped to think about what the difference is between engagement rings and wedding rings or bands? Yes, but how do you tell them apart and how do you know which style to purchase? There?s already so much to consider when planning a proposal and the eventual wedding - adding this additional layer can definitely prove to be confusing or overwhelming to many brides and grooms-to-be.

To help educate you on the difference between a wedding ring and an engagement ring, we?ve put together a list of key differences between the two. Keep reading to learn more!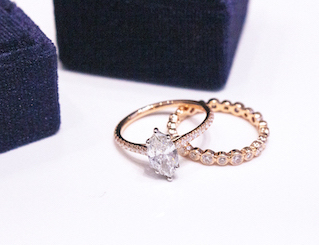 WHEN YOU BUY THE RING
The timing of when you actually purchase the ring is the first key difference between wedding bands or rings and engagement rings. Typically, you purchase an engagement ring before the proposal takes place, whether it?s a few months before, weeks before or days before. On the other hand, a wedding ring is often purchased after the proposal but before the wedding. Sometimes, both rings can be bought at the same time in a matching set for a complementary appearance.
WHEN YOU GIFT THE RING
Following when you purchase a ring, the next key difference between a wedding ring and an engagement ring is when it is actually gifted to the recipient. Engagement rings are given to the bride or groom-to-be at the moment of the proposal (and acceptance). Wedding bands or rings are gifted at the actual ceremony in an exchange of rings. On some occasions, the engagement ring and wedding ring are one and the same, which means that it is gifted twice - once at the proposal and once at the wedding ceremony.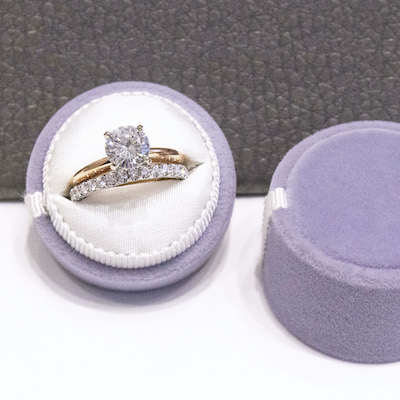 THE DESIGN OF THE RING
Next up on the list of key differences between wedding bands and engagement rings is the actual design of the ring. Wedding rings are often simple in design with a band silhouette, sometimes featuring sparkling stones. On the other hand, engagement rings are typically more extravagant in design, with larger stones, more intricate textures and detailed work, and a variety of unique diamond cuts and setting styles.
THE PRICE OF THE RING
The final key difference between a wedding ring and an engagement ring is the actual price of the piece. More often than not, a wedding band or ring carries a lower price tag than an engagement ring due to its more minimalist aesthetic. However, as we mentioned before, you can often opt to buy a wedding band and an engagement ring in a set for a more complimentary appearance.

If you?re thinking about purchasing the perfect wedding ring, wedding band, or engagement ring, we?re here to help. Get in touch with us anytime to book an appointment to shop our full range of stunning styles in-store with one of our expert staff members at Heller Jewelers San Ramon. You can also meet with our on-staff jewelers to discuss customization options to craft the perfect rings for you and your other half. We?ll be able to help you find exactly what you need and so much more!


READY TO DISCOVER YOUR PERFECT WEDDING RING, WEDDING BAND OR ENGAGEMENT RING? CONTACT US TO BOOK AN APPOINTMENT TO SHOP IN-STORE!