The Latest Styles of Gold Rings Women Love
January 11th, 2020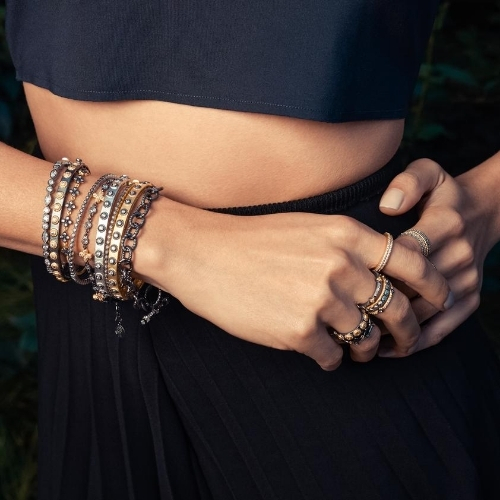 This sleek accessory offers the best of both classic and modern aesthetics all wrapped up in a gorgeous precious metal that looks stunning with anything that you wear. The gold rings women wear the most are often reflections of their personal sense of style, with subtle detailing, unique shapes, or other eye-catching characteristics that set them apart from the rest of their jewelry collection.

Gold rings are also considered an investment in your future, as they tend to stay in style, even with the changing trends, maintaining an emblematic style for many years. Gold is synonymous with luxury, directly tied to the value of money and considered to be an intelligent investment that retains its value, even when the prices of other precious metals ebb and flow.

To help you in your search for the latest trending styles of gold rings women need in their personal jewelry collections, we?ve gathered some of our favorite trends and aesthetics for your convenience. Read on to discover more.
THE MINIMALIST RING
Always on-trend and elegant, the minimalist aesthetic features simple lines, subtle detailing, and a clean appearance that can instantly add a touch of visual interest to any outfit. This style of ring is the perfect investment for the woman who wants a beautiful piece of jewelry that she can wear for many years to come, as they tend to avoid trendy accents that can quickly date a piece. Rather, minimalist gold rings women reach for most often are those with a simple band, minimal accents, and small precious stones, if any at all.
THE STACKED RINGS
A play on the minimalist trend, stacked rings are one of our other favorite trending styles. This involves wearing multiple rings together at once for a ?stacked? effect, giving you the opportunity to wear all of your favorite pieces without having to pick and choose! In fact, the more rings that you stack together, the better. You can easily use this trend to craft a gorgeous look that is truly and uniquely yours.
THE STATEMENT COCKTAIL RING
If minimalist gold rings are not really up your alley or you?re looking for something with a little more dazzle, a statement gold cocktail ring might be exactly what you need. A favorite for women who want to really make their accessories or outfit pop, a statement cocktail ring often features an eye-catching gold band paired with beautiful precious stones or diamonds in a unique shape or design. These rings are typically oversized to really add to the sparkle and feature subtle vintage inspiration for a truly statement-making effect.

THE VINTAGE RING
Because gold is so timeless, there are many vintage or vintage-inspired gold rings women can wear with their day-to-day outfits. The boldest of these designs often feature eye-catching yellow gold with dazzling statement stones or oversized diamond accents. Another popular vintage style to consider is the 1920?s art deco aesthetic, which features stunning geometric patterns, vivid lines, and contrasting hues. Since these styles are often pre-worn or estate, they also tend to have a more attainable price point and feature a more unique design that you can?t find anywhere else.

THE ENGAGEMENT RING
Of course, one of the most popular styles of gold rings women love more than any other is gold engagement rings. The most timeless precious metal, gold is the perfect choice to make up the band of any engagement ring. It will stay looking beautiful and on-trend for years and years after your wedding! Whether you prefer bold yellow gold, feminine rose gold or shimmering white gold, there?s the perfect color and variety of gold for your ring.


If you still haven't found the gold rings that you?ve been dreaming of, you can always create a customized one, too. At Heller Jewelers, we have an expert team of experienced jewelers as well as plenty of loose diamonds and other precious stones to choose from for you to craft the perfect gold ring.


READY TO CREATE A CUSTOM RING? BOOK AN APPOINTMENT IN-STORE!